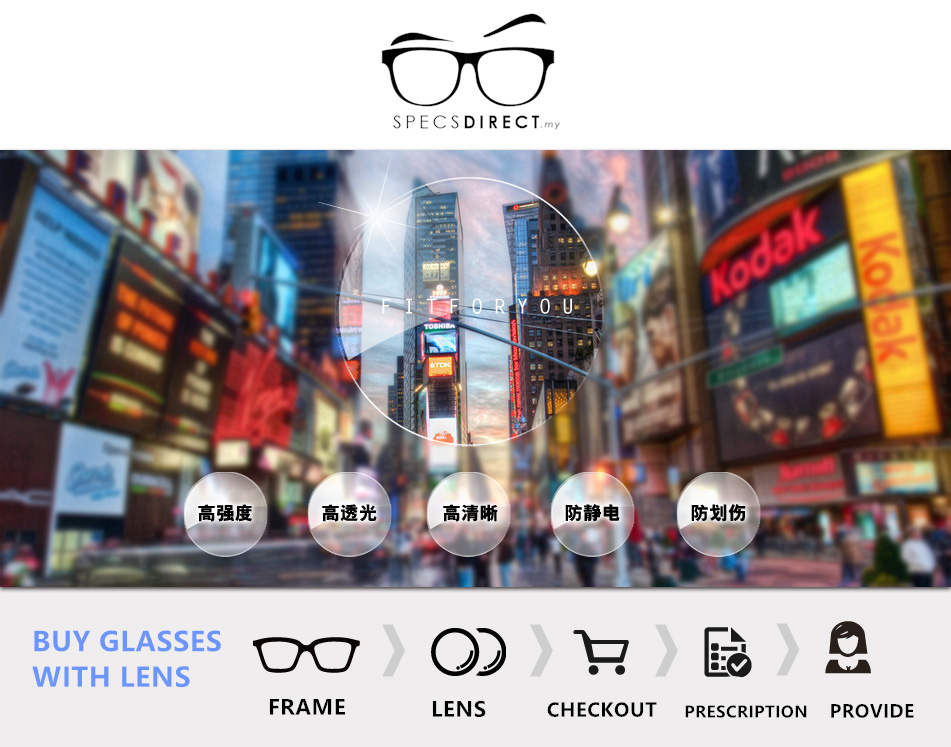 Steps to purchase a prescription glasses
1. Choose a frame and add to cart.
2. Choose a suitable lens and add to cart. (Look for how to select a suitable lens below.)
3. Checkout with both items and make payment.
4. Provide your eye prescription to us via Whatsapp 016-6858 511.
5. Wait for delivery around 7-10days.
IMPORTANT
*We are not a spectacles shop. We DO NOT provide eye checking service.
Type of prescription lens we do
Single Vision only
Single vision prescription lenses can correct nearsightedness, farsightedness, and astigmatisms. They contain the same amount of vision correction throughout the entire lens.
We dont not provide progressive / bifocal / trifocal lenses service.
Type of lens
We have 3 type of single vision lens, index of 1.56, 1.61 and 1.67. Choose the lens based on your eye power. Higher index mean thinner lens.
Suitable for Astigmatism below 400 only.
For eye power more than 600, we recommend that you do at specs shop.



All our lens come with UV protection, anti reflection, scratch resistant, and anti radiation. Or you may heard it as "Multi Coated" lens.
**We dont have Transition / Bluelight reduction / Polarized lens.
How to Read an Eye Prescription
Understanding your glasses prescription comes down to knowing what the letters and numbers stand for. If your prescription is without astigmatism (散光), you only need to provide SPH and PD.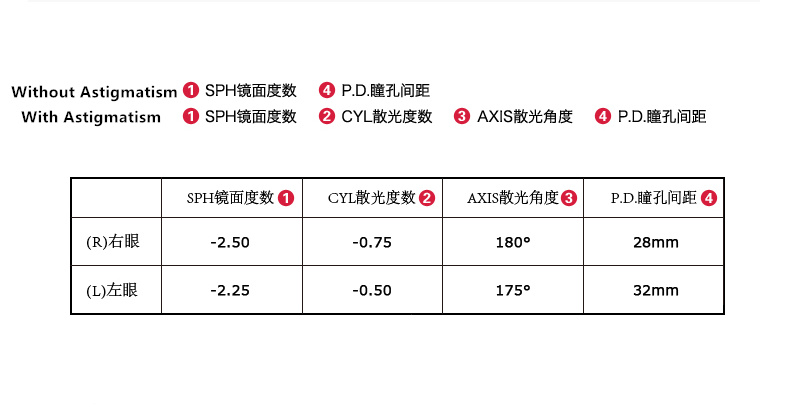 R . L
Just refer to your eyes as "right" and "left".
SPH
This tells you whether you are nearsighted or farsighted and how much correction your eyes need. If the numbers are negative, you are nearsighted. A plus sign means you are farsighted and could be in need of reading glasses. Usually, the worse your eyesight is, the further from zero the number will be.
CYL
If there are three numbers in your prescription, you probably have an . The "cylinder" might be written with a plus or minus, but either way, it's indicative of the degree of your astigmatism.
AXIS
You might also see this written as "X". This number between 0 and 180 represents the orientation of astigmatism.
PD